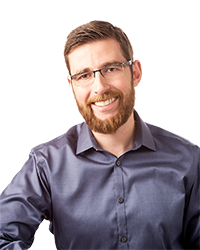 Reid Riker, CPA
At Evans, Nelson & Company, CPAs, we like the think of ourselves as accountants that break the mold of your typical CPA.
Reid Riker is no exception as he enjoys being an accountant who adds personality and charisma to clients he prepares returns for. Very often you find Reid asking questions beyond the typical "how did last year go" as he enjoys meeting the people "behind the numbers".
Reid Riker has been in public accounting ever since he received his undergrad from Cal State San Bernardino in 2005. Being in public accounting was a natural choice for him because of the variety of people that he gets to meet. Working eight tax seasons, he is also very familiar with assisting clients not only prepare their returns, but also planning forward to take advantage of new laws and requirements.
Reid Riker is very fond of tax research and when he is not in the depths of tax season, enjoys reading regulations and tax court cases. Many think that accounting is static, does not change and is only "debits" and "credits". Nothing could be further from the truth as tax law, as well as financial reporting change on an annual basis, and sometimes more often.
Reid comes from a rather diverse set of upbringings, as he is originally from Calgary, Alberta, Canada where he, his mom and two brothers moved to a farm in Northern Alberta, near Lloydminster. He eventually moved to Southern California with his mom and one brother. Eventually he settled in Reno after receiving his Undergrad.
While Reno is a fair bit farther south than Calgary, Reno shares many similarities with Calgary such as the proximity to mountains, skiing and rivers. Reid truly appreciates Reno because it reminds him of his home town (although Calgary can hardly be called a town anymore, given the oil boom). Reid is a big fan of the "Wild West" mentality as he enjoys horseback riding and time out in the "boonies" with his black Labrador, Seamus.
Interestingly, Reid also is a huge fan of Star Trek and has been to several "Trekkie" (or Trekker) conventions. Those who are a fan of the series will recognize Reid's last name, there is a story behind that is best told in person.
Reid is also an avid Rotarian in the Rotary Club of Reno, Midtown since 2011 and loves the positive goodwill that Rotary International puts forward not only in the community, but in the world. Reid lives to serve.
Reid has been with Evans Nelson & Company CPA's ever since its prior owner, Mike Evans ran it in 2006. He feels that he has gotten to known Northern Nevada particularly well, not only in the accounting operation and economy sense, but mentality-wise, too. Given his joyful personality and abundance in accounting technical knowledge, Reid looks forward to helping folks navigate the realms of tax and accounting.