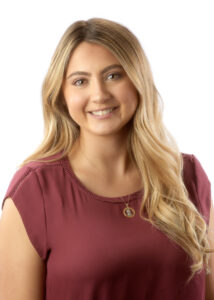 Brittney Lis

Brittney Lis is an Administrative Assistant who joined ENCPAS in July of 2019.
Brittney provides administrative support to Evans, Nelson, & Company, CPAs. She is dependable, determined, well-organized, and has exceptional time management skills. She was born and raised in Tracy, CA before moving to Reno in 2015 to attend the University of Nevada, Reno. She earned a Bachelors of Science degree in Business Marketing in 2019.
She has years of diverse experience in customer service, marketing, promotions and administrative support work. She found a passion in helping and communicating with others, whether it is answering phone calls and emails, assisting clients with their questions, concerns, and needs, and asking coworkers if there is anything she can do to help lighten their workload.
In her spare time, she enjoys taking her rescue pup, Kona, on hikes. She also enjoys snowboarding and interior design.